Alum Spotlight: Caroline's Cookies
Caroline's Cookies was created by our very own Blue Gator Alum, Caroline Merryman ('20).

back
If you haven't heard of Lafayette's newest obsession, Caroline's Cookies, then you must be living under a rock! Caroline's Cookies was created by our very own Blue Gator Alum, Caroline Merryman ('20). Caroline is currently a full-time college student and also runs a VERY successful business that she built from the ground up. I got the pleasure to interview Caroline and get some behind the scenes of what it was like to start her own business so young and be so successful.

How did you get started?
I've been baking since I was around 10 years old, but during quarantine, I started baking cookies all the time and would give them to my friends. In September of 2020, I decided to make an Instagram to post pictures that my brother had taken of my cookies and impulsively decided to sell them, too!! It's really just grown from there.

What was the hardest part of starting a business?
I think that the hardest part of starting was finding confidence in myself and my product. I really was doubtful and honestly scared of what people would think. So, every time I get positive feedback or a repeat customer it's the most rewarding feeling.

Can you explain the difficulty of having a very popular business while also balancing being a full-time college student?
Balancing college with my cookie business has been pretty hard!!! Although, I was lucky since almost all of my classes have been online. I'm definitely putting a lot more time/effort into my business than I am into my schoolwork.

When did your love for baking start?
I started baking when I was around 10 years old; starting in 7th grade, I started bringing different baked goods to school to give to my friends. No one in my family baked but I am obsessed with anything sugar so I loved it.

What is your best-selling cookie?
My best-selling cookie & my personal favorite is the cookies & cream!! It's got Oreos, milk chocolate, & white chocolate in it.

What is your favorite thing about running your own business?
My favorite thing about running a business is probably getting to see my customers so excited to get their cookies. It's a really good feeling when I see my hard work paying off!

What is it like having pop-ups and collaborating with other businesses in the area?
When I first started selling cookies, I took orders through social media and delivered cookies to my customers. I then became a vendor at the Lafayette farmers market & started doing pop-ups in local businesses around Lafayette. I really love doing in-person events because it's been so much fun interacting with my customers. I'm so excited to see what the future holds and I've been blessed beyond what I could've ever imagined. This business has definitely pushed me out of my comfort zone and I've loved getting to meet so many new people!

As you can tell, Caroline is very passionate and her love for baking shines through every aspect of her business. Congratulations to Caroline on such a success! Now hurry up and go order those cookies because they sell out FAST!

Check out her socials to find out when you can order:
https://eatcarolinescookies.com/
https://www.facebook.com/eatcarolinescookies
https://www.instagram.com/eat_carolinescookies/

About the Writer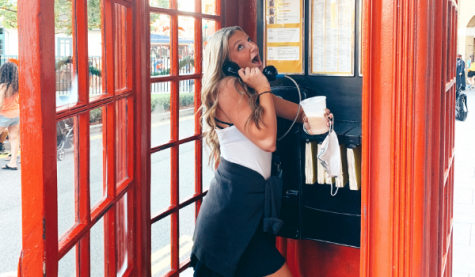 Claudia Jones, Editor in Chief
Hey everyone! My name is Claudia Jones, and this is my second year in Journalism. I'm obsessed with everything food, especially a Canes 3 finger combo extra crispy. I'm very excited for my senior year, but also kinda sappy at the same time because I'm not ready to leave the place I've called home for so long. I'm involved in SADD, Younglife, and Varsity Cheer. This year, I will serve as the Editor in Chief for the yearbook and The Authored Ascension. I'm very excited to see what I, along with my classmates, accomplish this year.
In The News
Caroline's Cookies was created by our very own Blue Gator Alum, Ca...
YOUNGSVILLE — Coach Lonny Landry has the Ascension Episcopal baseb...
Karissa is focused on student success, but she defines that succes...